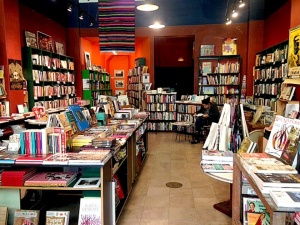 Events
|
Nightboat Books in The Bay
November 4, 2015
Join us for an evening with Nightboat Books featuring readings by West Coast and near-West authors: Orlando White, Gabriella Klein, John Sakkis and Cole Swensen at The Green Arcade Bookstore in San Francisco.
When: Tuesday, November 24th at 7pm
Where: The Green Arcade: 1680 Market Street @Gough, San Francisco CA 94102 / (415) 431-6800.
Who: Nightboat Books and…
ORLANDO WHITE is the author of 
LETTERRS
(2015) and 
Bone Light 
(2009). He holds a BFA from the Institute of American Indian Arts and an MFA from Brown University. He is a recipient of a Truman Capote Creative Writing Fellowship, a Lannan Foundation Residency, and a Bread Loaf John Ciardi Fellowship. He has taught at The Art Center Design College and Brown University. Currently, he teaches at Diné College and in the low-residency MFA program at the Institute of American Indian Arts.
GABRIELLA KLEIN is the author of Land Sparing (2015). She earned her MFA in Poetry from Vermont College of Fine Arts. She lives with her husband and daughter in Santa Barbara, California.
JOHN SAKKIS is the author of The Islands (2015) and Rude Girl (2009), as well as numerous chapbooks and ephemera. Since 2005 he has edited BOTH BOTH, a magazine of poetry and art. With Angelos Sakkis he has translated four books by Athenian poet Demosthenes Agrafiotis: most recently Y'es and Diaeresis (2015); Maribor (2011), which was awarded the 2011 Northern California Book Award for Poetry in Translation, and Chinese Notebook. He lives in Oakland.
COLE SWENSEN is the author of 13 books of poetry, including Gravesend, and a book of essays, Noise That Stays Noise. She's also the co-editor of the 2009 Norton anthology American Hybrid and the founder and editor of La Presse, a nano-press dedicated to contemporary French work in translation. She is professor of Literary Arts at Brown University.