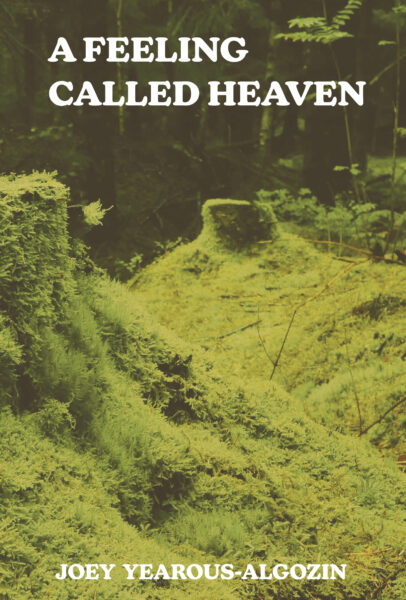 Blog
|
Joey Yearous-Algozin On Guided Meditations, Ambient Soundscapes And New Age Music For The End Of The World
September 21, 2021
This week on the Nightboat blog, we're celebrating the recent publication of Joey Yearous-Algozin's A Feeling Called Heaven with an ambient and New Age mixtape inspired by the book–which takes the form of a guided meditation on human extinction–and compiled by the author himself. Take a listen and let yourself be guided into the present and into oblivion.
---
I'm sitting on a pew in a church in Brooklyn with my friend Marie. It's night and we're there to see Laraaji, the renowned New Age musician and laughter meditation teacher, perform a live set. Before him, the opener, Brooklyn-based musician Rachika Nayar takes the stage, playing a set of songs using processed guitar and synth loops under the neon lights illuminating the church's crucifix. As she plays, a video is projected behind her, a series of landscapes shot from the window of a moving vehicle that ends with what looks like footage of the Paradise fires that devastated California earlier that year. Marie and I watch trees catch fire and burn.
It's at this moment I am wracked with something I can only call grace. A liquid continuum of rapidly alternating sounds, the music recedes from conscious attention; increasing the time between changing notes, sound becomes spatial. An awareness grows of the room I am sharing with Marie and hundreds of strangers. The interplay of the video and Nayar's music facilitates a communal, if brief, meditation on our own extinction. Instead of escape from the harsh realities of this collapse, the conjunction of images of a world on fire and the steady swelling crescendo of repeating and overlapping notes creates an atmosphere of shared attention in which we can acknowledge our collective mortality.
I've compiled this selection of guided meditations, ambient soundscapes, and New Age music as a companion piece for A Feeling Called Heaven with the hope that it inspires an awareness of the present moment, alone or with others, that does not negate the slow collapse of our world but ushers in the possibility of finding joy or pleasure somewhere within it.—Joey Yearous-Algozin
Tracklist
Steven Halpern, "Keynote C—Red," Spectrum Suite
There's a Mister Roger's theme song vibe to this opening track, but if the neighborhood you were being welcomed to was on the astral plane. Spectrum Suite is a masterpiece of 1970s arpeggio synth.
Zavijava Orchestra, "Passage of Time," Rivers of Light
The cover of this album bears an Rx medical prescription for "Calm Energy". As I was finishing the first draft of the book, a cancerous tumor was removed from my arm. I was diagnosed with lymphoma. There's no cure, the disease is manageable and more than likely non-fatal. I undergo periodic scans to monitor my body for tumors, a treatment called "watchful waiting". This meditation on the present state of my body finds its analogy in the kind of attentive listening that ambient or new age music asks for.
Don Slepian, from Sea of Bliss
A lot of new age albums simulate the sounds of the sea or rushing water. Luckily, this is not one of them. Instead, Slepian's synthesizer effects the twinkling of stardust. It's a beautiful album.
Peter Davison, "Glide III," Glide
This song kept me company walking between adjunct gigs in Manhattan before the pandemic. One of the few pleasures of working multiple jobs in the same day was listening to Peter Davison while walking up Broadway through Union Square to Gramercy Park and looking at the architecture on the top floors of buildings. New York City has a lot of very beautiful buildings.
Suzanne Doucet, from Reflecting Light Vol. 1
One time I was in Nebraska with my aunt and uncle in their RV, driving across the country. We got out and walked along a highway lined with corn fields stretching to the horizon. I've never felt smaller than in the unbroken flatness of that expanse. This album gives me a similar feeling.
Green-house, "Soft Meadow," Six Songs for Invisible Gardens
Early on when COVID was bad in New York, I rarely went outside. This was when they were building a field hospital in Central Park and all you heard outside were sirens. I'd put on this album while playing a David Attenborough nature documentary in the background. I think I was really just trying to simulate a sense of anything existing beyond our little one-bedroom apartment.
Nicki Scully, from Cauldron Journey for Rebirth
Guided meditations put the listener in a suggestive state, so they're less likely to think of a wild association or jump in logic as jarring. This is the equally true for difficult ideas like death or extinction. Using guided meditations as a model for A Feeling Called Heaven, I was able to think about imminent death while maintaining a tone of intimacy. Additionally, the slow pace of the language allows for something quite minimal to appear detailed and vivid. This is especially true of Scully's increasingly outlandish images in the excerpt included here.
R. Carlos Nakai, "Island of Bows," Island of Bows
Perhaps the airiest song on this mix, it also is one of the more seemingly structured compositions. While a lot of early new age albums were largely self-released, DIY affairs, this is a star-studded collaboration for the Japanese label, Awa Muse. The classically trained Nakai performs live on a traditional cedar flute in Kyoto's Hoon-ji Temple alongside Japanese new age musician Hiroki Okono, neotraditional Wind Travelin' Band, and Oki Kano.
Emerald Web, from Valley of the Birds
Besides making new age albums, Emerald Web made soundtracks for National Geographic, PBS Nova, and Carl Sagan, as well as planetariums. There's a delightful absurdity that the breathless vacuum of space would be filled with flute music. The fantasy of escape to a distant planet, recently embodied in Jeff Bezos' flight aboard New Shepherd, is largely an escape to a simulated ecology of the mind.
David and Steve Gordon, "Lightsource," Lightspring
While most of this mix is pretty chill, the final two songs increase in intensity and tempo. This song sounds like it should be in a run-away sleigh scene of an 80s new age Christmas movie that never got made and I love it.
Laaraji, The Dance #1, Ambient 3: Day of Radiance
The one time I saw Laraaji play, he led the audience in a laughter meditation. We all laughed together, as layer upon layer of cynicism and irony, any resistance that we might built up, was peeled away in the communal noise. This particular track was made for the third album of Brian Eno's groundbreaking ambient series.