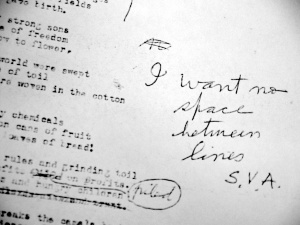 Events
|
Jill Magi Curates Event in New York
March 15, 2015
Collection Processed by Poets: Five Writers Respond to the Wagner Labor Archive with Robert Fitterman, Paolo Javier, Maryam Parhizkar, Eléna Rivera & Johannah Rodgers Tamiment Library in Bobst Library, 10th Floor, 70 Washington Square South, New York
March 25, 6:00-7:30 p.m
Free and Open to All
Robert Fitterman, Paolo Javier, Maryam Parhizkar, Eléna Rivera & Johannah Rodgers were tasked with visiting the Wagner Labor Archive over three months. As word workers attuned to lyric and subtext, they "un-process" and "process" its holdings. On March 25 they gather to read their works: texts that engage the archive's history and extend the archive's future. Curated by Jill Magi, whose book LABOR (Nightboat, 2014) responds to the Wagner Labor Archive, this initiative situates poets within the history and language of labor, and it brings the archive's holdings out into the world of literature. Co-sponsored by the Wagner Labor Archive, NYU.
Participant Bios:
Robert Fitterman is the author of 14 books of poetry including No Wait, Yep. Definitely Still Hate Myself (Ugly Duckling Press, 2014), Rob's Word Shop (Ugly Duckling Press, 2015), Holocaust Museum (Counterpath, 2013, and Veer [London] 2012), now we are friends (Truck Books, 2010), Rob the Plagiarist (Roof Books, 2009), war, the musical (Subpress, 2006), and Notes On Conceptualisms, co-authored with Vanessa Place (Ugly Duckling Presse, 2009). His long poem Metropolis, has been published in 4 separate volumes. He teaches writing and poetry at New York University and at the Bard College, Milton Avery School of Graduate Studies.
Paolo Javier is the former Queens Poet Laureate (2010-2014), and the author of Court of the Dragon (Nightboat, 2015), The Feeling Is Actual (Marsh Hawk, 2011), 60 lv bo(e)mbs (O Books, 2005), and the time at the end of this writing (Ahadada, 2004). He edits 2nd Ave Poetry, an online journal/micro press. He recently published an essay on bp Nichol and comics in Reading the Difficulties: Dialogues with Contemporary American Innovative Poetry(University of Alabama). New poems are forthcoming in the anthology The Break Beat Poets: New American Poetry in the Age of Hip Hop (Haymarket Books).
Jill Magi is an artist, critic, and educator who works in text, image, and textile. She is currently at work on Labor Poetic Labor!, an e-chapbook for Essay Press, featuring conversations with poets, an historian, and a librarian: Patrick Durgin, Paolo Javier, Paula Austin, and Trina Magi. Beginning in February 2015, Jill will comment regularly for Jacket2 on "a textile poetics." Her books include LABOR (Nightboat, 2014), SLOT (Ugly Duckling Presse, 2011),Cadastral Map (Shearsman, 2011), Torchwood (Shearsman, 2008), and Threads (Futurepoem, 2007).Pageviews/Innervisions, a monograph on textimage hybridity was recently published by Moving Furniture Press/Rattapallax. She teaches poetry and writing through textiles at New York University Abu Dhabi.
Maryam Parhizkar writes, researches and works via her musical training, and is completing her MA concentration in American Studies at the City University of New York Graduate Center. By day she doubles as an early music series administrator and co-managing editor of Litmus Press. She is the author of a chapbook, Pull: a ballad (The Operating System, 2014). A chapbook-length essay on Sun Ra, Clarice Lispector, reckoning, and resonance is forthcoming from Portable Press at Yo-Yo Labs this year.
Eléna Rivera has worked as a banquet waitress, a dishwasher, a bank teller, a receptionist, a salesperson, a seamstress, an artist model, in a library, as an encoder, an actor, a letterpress printer, a science explainer, an editor, a translator, a teacher, and a writer. Her most recent books are: Atmosphered (Oystercatcher Press, 2014),Overture (Metambesen, 2014), On the Nature of Position and Tone (Field Press, 2012) and The Perforated Map(Shearsman Books, 2011). She won the 2010 Robert Fagles prize for her translation of Bernard Noel's The Rest of the Voyage (Graywolf Press, 2011) and is the recipient of a 2010 NEA Fellowship in Translation.
Johannah Rodgers is a writer, visual artist, and educator whose work explores representation and communication across media. She is the author of Technology: A Reader for Writers (Oxford University Press, 2014), the digital fiction project entitled DNA (mimeograph/The Brooklyn Rail, 2014), and sentences (Red Dust, 2007). Her visual works include the Excel Drawing Series, featured in the The Drawing Center Viewing Program, and The How Much Project, which explores the intersection of aesthetics, civic literacy, and social action in relation to income inequality in the United States via digital and analog visualization tools. She teaches writing and literature at the New York City College of Technology.