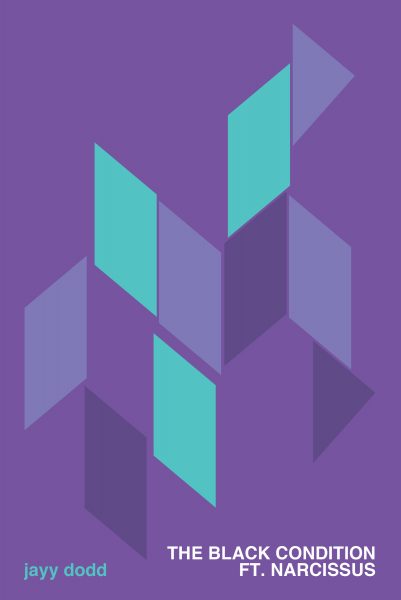 Blog
|
jayy dodd's "The Black Condition ft. Narcissus" Playlist
April 30, 2019
One of our favorite books this spring at Nightboat is jayy dodd's The Black Condition ft. Narcissus. By way of the classically fatal beauty Narcissus, jayy has fashioned a collection of poems that is at once biting and delicate, biblical and diurnal.  Parallel to her poetics, jayy works within the myriad mediums of performance art, often utilizing music and sound in those latitudes. jayy selected some poems from the book, and we chose some of our faves, to collect into this unofficial The Black Condition ft. Narcissus playlist. Take a listen and get your copy now!
—
"I Know I've Been Changed" // Lashun Pace – I Know I've Been Changed
Despite hitting the very nail on the head, this song speaks to me as divine validation of my trans* journey. The predication of being as recognized & recorded in some greater dimension. Gospel artist Lashaun Pace Rhodes, in her iconic performance of this traditional Negro spiritual, leads the congregation in a hum-frequency call & response, join in with all watching over from their other realities.

"narcissus reads 1 Corinthians 13, Without Love" //  serpentwithfeet – "blisters"
serpentwithfeet is such a singular artist & many of their songs have been creative motivators for years. With regards to this poem, a rude translation of a bible passage omitting the conceit of love as part of this vignette on remaking. The song, which hangs in the sonic like a lullaby while resonating like a fog horn, compels us to see the temporality of desire & the rotting of all blooming things.

"Manual (Play)" // Missy Elliot ft. Ludacris & Tina – "One Minute Man"
"Play" is an intentional moment of brevity in a mediation of the mortality of hands. What began as wordplay begat manipulation mestastizing into new matter. Meaning many thoughts on men made mockery more malleable. Playing with sound & men feels iconic of prophet Missy Elliot, so in a gestural way this is my response to her 2001 hit about quick release partners. 

"narcissus attempts resurrection" // NAO – "Blue Wine"
This is the last poem written for the collection & almost not included, but this dissonance is a preview of an afterlife for the speaker in the poem. The poem maps assumptions, beliefs & other realities I attempt to hold onto. This is also one of the earliest poems I've written sober. Nao's triumph melancholy housed across her catalog is gorgeous but this track is such a salient moment of retrospection & natural observation. 

"Put Your Hands Where My Eyes Can See" // Busta Rhymes – "Put Your Hands Where My Eyes Can See"
Busta Rhymes is such an inspiration to me & my body. His sheer physical grandiosity was a creative muse as a child & his lyrical dynamics sends electrodes through my body. This song is one of his more mid-tempo bops but the pocket rhythm vibes very very high. There is the combination of demand, desire & submission all at work here & my poem navigates what a body can ask for. 
-jayy dodd, April 2019
Catch jayy with t'ai freedom ford, DeShara Suggs-Joe, Taylor Steele, Morgan Jerkins, and Sean D. Henry-Smith for The Black Condition ft. Narcissus book launch, Friday, May 3rd @ Callicoon Fine Arts, 6:30pm!
—
jayy dodd is a blxk trans womxn from los angeles, california– now based in Portland,OR. she is a literary & performance artist. her work has appeared / will appear in Broadly, The Establishment, Entropy, LitHub, BOAAT Press, Duende, & Poetry Foundation among others. she is the Executive Director for Dovesong Labs (a development of Winter Tangerine), editor of A Portrait in Blues (Platypus Press 2017), author of Mannish Tongues (Platypus Press 2017) & The Black Condition ft. Narcissus (Nightboat Books 2019). she has been a Pushcart Prize nominee, co-editor of Bettering American Poetry. her visual & written work has been featured in West Hollywood, Portland's Institute of Contemporary Art, Teen Vogue & Entropy. she is also a volunteer gender-terrorist & artificial intellectual. find her talking trash online or taking a selfie.