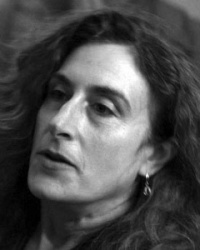 Events
|
For Stacy Doris – a day in celebration of the poet's life and work
April 18, 2012
Please join us in celebrating the life and work of Stacy Doris.
Stacy Doris, internationally acclaimed poet, translator, and teacher died in San Francisco, California, on January 31, 2012. She was 49 years old. Doris was an Associate Professor in the Department of Creative Writing at San Francisco State University, where she taught since 2002. She was the author of six books of poetry in English, and three books in French (one of poetry and two fictionalized memoirs). She had battled cancer (eventually diagnosed as leiomyosarcoma) for the past three years.
Her books of poetry include The Cake Part (Publication Studio, 2011; released with a set of video adaptations by friends, available on Vimeo and as video mash-ups); Knot (University of Georgia Press, 2006), Cheerleader's Guide to the World: Council Book (Roof Books, 2006), Conference (Potes & Poets, 2001), Une Année à New York avec Chester (P.O.L., 2000), Paramour (Krupskaya, 2000), La vie de Chester Steven Wiener écrite par sa femme (P.O.L., 1998), and Kildare (Segue Foundation, 1994).
A new book of poetry, Fledge: A Phenomenology of Spirit is being published this month by Nightboat Books. The Poetry Center is hosting a Book Party April 19, 7:30 pm, at the Green Arcade, 1680 Market Street (see details below) in San Francisco.
Several recordings of her reading her work, 2001-10, are available online at PennSound, including her sound piece, Water Oracle (2007).
Doris was also a dedicated translator, particularly of the work of contemporary French poets, and she co-edited two anthologies, Twenty One New (to North America) French Writers (with Norma Cole, Raddle Moon, 1997) and Violence of the White Page (with Emmanuel Hocquard, Tyuonyi, 1991).
Abigail Lang is an associate professor at the University Paris-Diderot where she teaches American literature and translation. Her research focuses on modernist and contemporary American poetry and increasingly on contemporary French poetry as well. She is the author of Le monde compte rendu. Lectures de Louis Zukofsky (ENS editions, forthcoming) and the co-author, with Thalia Field, of A Prank of Georges (Essay Press, 2010). With Andrew Zawacki she co-edited a special triple-issue of Verse on French poetry and poetics (2007).  One of the curators of the Double Change reading series, she has been co-editing Double Change's film archive of poetry readings, as dvds and now online. Recent translations include David Antin, John Cage sans cage (with Claire Delamarre, MMM|Presses du réel 2011), and Rosmarie Waldrop, La Route est partout (l'Attente, 2011); forthcoming are translations of Thalia Field and Lorine Niedecker.
Sarah Riggs is the author of the forthcoming Autobiography of Envelopes (Burning Deck, spring 2012), as well as Waterwork (Chax Press, 2007), Chain of Miniscule Decisions in the Form of a Feeling (Reality Street Editions, 2007), 60 Textos (Ugly Duckling Presse, 2010), and 36 Blackberries (Juge Editions, 2011). Her book of essays, Word Sightings: Poetry and Visual Media in Stevens, Bishop, and O'Hara was published by Routledge in 2002. She has translated or co-translated from the French the poets Isabelle Garron, Marie Borel, Etel Adnan, Ryoko Sekiguchi, and, most recently, Oscarine Bosquet. Several of Riggs' works of poetry have appeared in French translations by Françoise Valéry and others, with the publishers Éditions de l'attente and Le Bleu du ciel. A member of the bilingual poetry collective Double Change, and founder of the interart non- profit Tamaas, she divides her time between the U.S. and Paris, where she is a professor at NYU-in-France.
Norma Cole's recent books of poetry include Natural Light, Where Shadows Will: Selected Poems 1988—2008 and Spinoza in Her Youth. A new book, WIN THESE POSTERS AND OTHER UNRELATED PRIZES INSIDE, will come out from Omnidawn Press in the fall. A book of essays and talks, TO BE AT MUSIC recently appeared, also from Omnidawn. Her translations include Jean Daive's A Woman With Several Lives, Fouad Gabriel Naffah's The Spirit God and the Properties of Nitrogen and Crosscut Universe: Writers on Writing From France. Cole has been the recipient of awards from the Wallace Alexander Gerbode Foundation, Gertrude Stein Awards, the Fund for Poetry, and the Foundation for Contemporary Arts. In 2008 she was a Regents' Lecturer at UC Berkeley and in 2011 was a columnist at San Francisco Museum of Modern Art's Open Space. She teaches at the University of San Francisco.
Cole Swensen's most recent books are Noise That Stays Noise, essays on poetics (University of Michigan Press), and a volume of poetry and graphics, Greensward (Ugly Duckling Presse), and, forthcoming in April 2012 from the University of California Press, Gravesend. A translator of French poetry, prose, and art criticism, she is also the founding editor of La Presse, which publishes contemporary French experimental writing. She teaches in the Literary Arts Program at Brown University and divides her time between Providence, Rhode Island, and Paris.
On Thursday, April 19 2012:
Double Change collective in honor of Stacy Doris featuring members of the Paris-based poetry collective Double Change: Abigail Lang and Sarah Riggs, with Norma Cole and Cole Swensen
3:30 pm @ Humanities Symposium Room, HUM 587, SFSU, free
4:30 pm @ Humanities Symposium Room, HUM 587, SFSU, free – preceded by a Tribute to Stacy Doris, 1962–2012 from the SFSU community
Stacy Doris's Fledge:
A Phenomenology of Spirit
Book Party and Reception
7:30 pm @ the Green Arcade, 1680 Market Street (at Gough), free