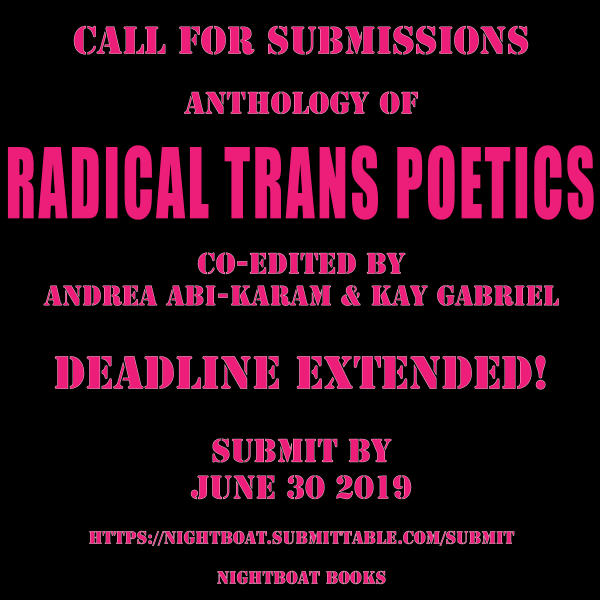 Contests
|
Call for Submissions: Radical Trans Poetics Anthology
April 22, 2019
WHAT: Nightboat Books is excited to invite submissions for an anthology of Radical Trans Poetics, co-edited by Andrea Abi-Karam and Kay Gabriel.
By "radical" we mean to suggest two overlapping aims, both political and aesthetic. Politically, we're interested in assembling poetry and poetics united against capitalism, racism and empire, in a horizon of gender and sexual liberation. We're excited by poetry that emerges from, travels alongside, encompasses or corresponds with collective struggle and movement. We believe that poems can think ambitiously about the heinous bullshit we fight and how we fight it, so we're curious about writing that's as ferocious, unrestrained, daring and inventive as those projects require. Meanwhile we look to poetry as one way we, as trans people, confront the world at hand and attempt to imagine a future for ourselves, a mode to inhabit both liberation and solidarity.
Some things we're looking for in particular: poems of revenge and desire, lyric essays, epistolary poems, correspondence between trans writers, ekphrasis, rewriting and derangement, collage, poetic journals, constraint-based poetry, poetry in translation, collaborative writing.  Please note that we're not looking for research essays.
We encourage submissions of unpublished work. We are also able to accept previously published work to which the authors retain the rights.
WHO: This anthology seeks to publish work by and for trans writers. We're not going to police the boundaries of that category; we trust that those who send in submissions will do so in good faith. We especially invite work by writers of color and writers outside the US and Canada. We welcome collaborative work and submissions in translation, with permission of the original writer. We're looking for submissions of up to five pages.
HOW: The submission period is open through July 7th at 11:59pm PDT. Please submit your work as BOTH PDF and Word Doc through Nightboat's Submittable page. Submissions are free.
Each contributors will receive a one-time payment of $25 as well as a complimentary copy of the anthology. Contributors will retain the rights to their work.
xoxo
Andrea Abi-Karam & Kay Gabriel, co-editors