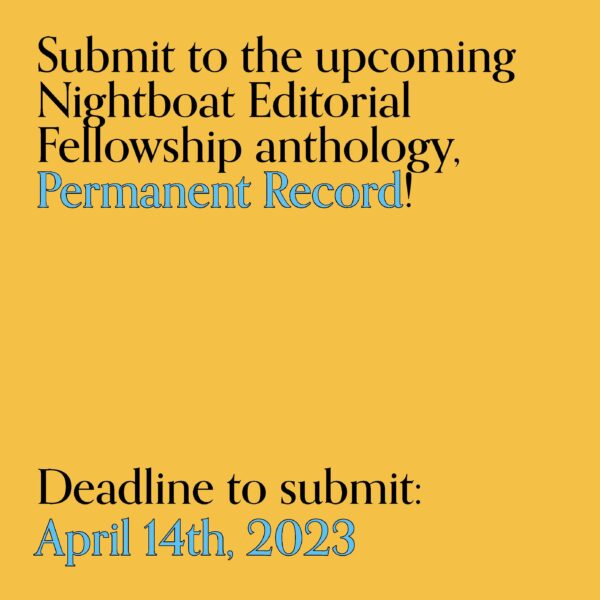 Blog
|
Call for Submissions: Permanent Record
February 22, 2023
Nightboat Books is excited to invite submissions for an anthology edited by Naima Yael Tokunow.
Permanent Record, an experimental collection of poetry and poetics, will hold work that engages with the a/Archive. We are thinking of the a/Archive in two forms: the Archive, as the commodification of shared cultural recording (i.e. The Canon, The State, the Written Record, forms of documentation, and other "Legitimate" ways of knowing), and the archive, as a counter-practice, the portals to the future, histories, and lineages that stem from our current moment. This anthology will be published by Nightboat Books in the Fall 2024/Winter 2025.
Currently, we are seeking poetry, poetics, and hybrid work that could fall into the following frameworks:  
Mothertongued: Explorations of Identity & Language
Diasporic and 1st generation lived experiences, fluency, multilingual and mono-lingual explorations, language as the codes/keys of The Archive, etc.
File Not Found: Holes in The Archive
How do we create our own records, borrow from others, and build narratives that are not fictional, but also not rooted in known "fact"? Where does our not-knowing lead us? Who or what is missing and where are the redactions and omissions?
The Map as Misdirection: The Archive as Colonial Project
Responses to the ways the record upholds harm and provides incomplete understandings (e.g. suppression of Indigenous sovereignty in the US and internationally, slave schedules, political propaganda, redlining, etc.), and/or alternate ways of locating ourselves in place and space.
Future Continuous
How and what are we leaving as records for our future(s)? What will we leave for our descendants to build their own epistemologies? What are our dreams, hopes, and fears about how we are ma(r)king the future, today?

WHO: We are particularly interested in work from Black, Indigenous, POC, queer, immigrant, disabled, and otherwise historically marginalized writers. We invite work by writers of color and writers outside the US and Canada. We welcome collaborative work and submissions in translation, with permission of the original writer. 
HOW: Submission guidelines: 
Open period: February 21 –

April 14, 2023

Up to 5 pieces (with a maximum total length of 8 pages) per submission (one submission/writer)

12pt, Serif font

In the submission form, please note what framework(s) you could see your work falling into (select as many categories as apply)

We cannot accept previously published work.
Each contributor will receive a payment of $50, as well as a complimentary copy of the anthology. Contributors will retain the rights to their work.
Submit here!