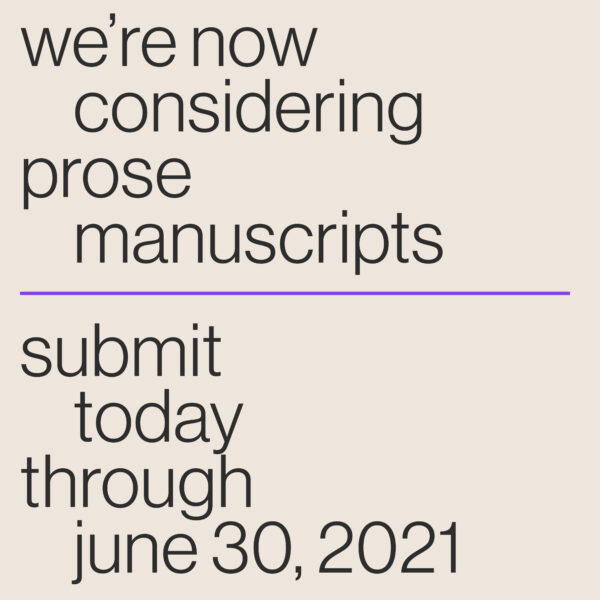 Blog
|
Announcing the 2021 Nightboat Prose Reading Period!
May 7, 2021
We're thrilled to announce that Nightboat Books is considering prose manuscripts from May 1-June 30, 2021. Please familiarize yourself with Nightboat Books's editorial affinities by checking out our catalogue. Buy our books! Borrow them from the library! Read them!
We're looking for innovative prose writing, including inter-genre/hybrid writing, book-length essays, and manuscripts of formally experimental fiction and/or nonfiction. Prose translations, international anglophone writing, and multilingual texts welcome. No strict forms. No limits. Your manuscript might include poetry and poetic sections, but we're not considering full length poetry collections at this time.
The kinds of work we are are excited to encounter might include, but isn't limited to:
Writing that illustrates and proliferates complexity in our world
Writing that gestures towards or reports back from other worlds
Writing that documents past / present / future periods of political uprising & experiment
Writing that builds up / writing that tears down
Writing that investigates & complicates existing narratives around identity
Writing that torques conventional prose forms or genre
Writing at the intersection of the material & the metaphysical
Writing that borrows from or investigates other mediums e.g. visual art or performance
Writing that cannot be easily categorized by any algorithm
Honestly the weirder the better—surprise us!
There is a $15 submission fee that goes towards fairly compensating screeners, readers, and editors specifically for the work related to this reading period.
We plan to accept 1-2 manuscripts. Authors will receive a $1,000 advance and royalty contract.
Submit via our Submittable page here!